5.59
A
2018/03/30
Enhancements:
(All) I resurrected DBAmon Multitask Mode. The dbamon_tasks script was also enhanced to show the current DBAmon Task Status.
5.58
5.58
H
2018/03/10
Enhancements:
(MSSQL) New check for MSSQL Databases with Compatibility set lower than the instance version. If a database is found with its Compatibility level set lower than that of the instance, a DBA970 event will occur. As with any DBAmon event, if you have intentionally set the compatibility to a lower value, then you can suppress this event with the Suppress_Event: DBC parameter.
5.58
G
2018/01/28
Enhancements:
(All) New 2 Hour Inhibit one-click transaction from the Instance Summary page.
5.58
F
2018/01/22
Enhancements:
(MSSQL) Fix - Must_Be_Up=N was not being honored for a few events - Fixed.
5.58
E
2018/01/10
Enhancements:
(MSSQL) New monitor for MSSQL Missing Indexes. See What DBAmon Monitors for MSSQL (#67 - near the bottom) for details.
(MSSQL) DBAmon now monitors MSSQL 2017. Tolerance, not exploitation - for now.
5.58
B
08Dec17
Enhancements:
(MSSQL) New monitor for MSSQL Transactional Replication Subscriptions with an excessive number of Undistributed commands: DBA863. This monitor is only active if the T_Repl_Undistributed_Cmds: DBC parameter is specified.
(MSSQL) New monitor for MSSQL Logins where the Default DB does not exist: DBA904. When a login is found with this problem, syntactically correct DDL to set the Default DB to Master is provided in the body of this event.
(All) On the Instance Summary WWW page, if an IDn value had instances with the value set to NULL, the drill-down page was not clickable. Fixed.
(MSSQL) AutoReorg Age Checking now works for a modified version of the Ola Hallengren index maintenance scripts.
(All) New Instance Summary WWW page pulldown reports - SWVer.
5.57
5.57
L
20Nov17
Enhancements:
(All) On the instance summary, the sorting of events in the Events Isolation sectionis now more obvious.
(All) New Fixed a bug in SWVer.
5.57
H
04Aug17
Enhancements:
(MSSQL) New CheckDB_Age_Days: DBC parameter. which allows you to exclude the "CheckDB" age threshold for DBAmon monitoring. The default is 8 days.
Fixes:
(MSSQL) CheckDB monitoring could not deal with DBs with a space in the name (boo, hiss).
(MSSQL) CheckDB monitoring was not dealing properly with Read Only DBs - now we just do not care about their CheckDB age because MSSQL does not record the last successful CheckDB timestamp for Read Only DBs (that's odd).
5.57
J
02Oct17
Enhancements:
(MSSQL) Disabled the probe subroutine checkBufferCache because on large instances it was running for 50-60 seconds.
(MSSQL) New DBC Probe_Parm: value of NoSQLLogCheck to prevent the SQL log from being checked.
5.57
G
01Aug17
Enhancements:
(MSSQL) The CGI dbamin_email.pl has been rewritten and reactivated.
Fixes:
(All) Fixed a problem where MSSQL_Addtl_Drives: was being mis-set.
(All) The DBA990 event's severity was changed from C to U.
(All) The new ODBC driver-finder logic in the probe was improved to be able to deal with the rare situation where the probe cannot read the registry. Ya' gotta love winders.
5.57
F
26Jul17
Enhancements:
(MSSQL) New MSSQL_Log_Exclude_Strings: DBC Parameter which allows you to exclude certain strings found in the MSSQL Error Log from DBAmon monitoring.

5.57
E
21Jul17
Enhancements:
(MSSQL) New event DBA808 for CheckDB Age is now completely enabled.
Fixes:
(MSSQL) There was an issue where after an inhibit period, we would always get a DBA801 event. This was because readDBCFile was using the wrong probe file name which meant that DownloadSWWin was being depended on to correct that file name. Fixed.

5.57
5.57
C
17Jul17
Enhancements:
(MSSQL) New monitor for CheckDB Age and new DBA808 Event. For now the threshold of 8 days is hard-coded - someday I will create a new DBC parameter for this.
(MSSQL) The DBAmon.Instances metadata table now has 2 new columns: Title1 and Title2. These are populated from the DBC values that you specify

5.57
5.57
B
14Jul17
Enhancements:
(MSSQL) New T_Disk_Full_Override parameter which allows you to specify a different Drive Full threshold for select disk drive(s).

5.57
A
11Jul17
Enhancements:
(All) Some formatting changes to the Instance Summary page - to reduce the height of each row.
(All) A read-only copy of the Notepad is now displayed on each Instance Drill-down page.
(MSSQL) Rewrite of how we connect to MSSQL on the local (target) server. Now, we find the best ODBC driver (preferring ODBC SQL Server* drivers) and connect with Trusted_Connection=Yes. This solves some problems where the old, unintelligent SQL Server driver could not live without TLS 1.0.

5.56
5.56
G
31May17
Enhancements:



Fixes:

(MSSQL) The new probe query to count tables and rows in 5.56.F used sysindexes, which was a mistake (it can block despite NOLOCK). We now use sys.dm_db_partition_stats.
5.56
F
21May17
Enhancements:

(MSSQL) New performance metrics for the total number of user tables, their total row count and total size (GB). This will allow you to track the historical values of these metrics for your instances. These values are displayed on the Instance Summary page near the MSSQL version information.
(All) Some minor Instance Summary WWW page aesthetic improvements.


Fixes:

(MSSQL) On the Instance Summary WWW page, the color in Current Readings was incorrect for Disk I/O response time.
5.56
E
02May17

Enhancements:

(MSSQL) (Event DBA850) How shows, in the event short text, details such as TotSizeMB TotMaxSizeMB, etc..

Fixes:
(MSSQL) For MSSQL DB files that are >2TB (size or maximum size), the MSSQL system stored procedure (sp_helpfilegroup) that we were using would fail (arithmetic overflow). So I now query SYS.Database_Files instead of using sp_helpfilegroup.
5.56
D
19Apr17

Enhancements:

(MSSQL) Previously, DBAmon performed a drive space check (the T_Disk_Full: DBC parameter) for all server drives which contain at least one DB file + the C: drive. Now DBAmon will additionally check the drive which contains the BackupFolder MSSQL install option.
(MSSQL) All TLog Full DBAmon events (Event DBA657) will now display the current Log_Reuse_Wait_Desc value from Sys.Databases. This should help in the diagnosis of TLog full events.

Fixes:

5.56
C
14Mar17

Enhancements:

(MSSQL) A new local event: DBA902.

Fixes:
(MSSQL) The Full DB Backup Age event has been fixed to not occur on an AlwaysOn Async replica.
5.56
A
03Mar17

Enhancements:

(All) The font size for the WWW page headers has been reduced. It was annoyingly large previously.
(All) The Outstanding Events page now is set to 120 second auto-refresh. We use this on a publically placed TV monitor to show the details of our instances' current events.
(MSSQL) Trying this as an experiment: We have some restored DBs that will never be changed again. We want to shrink them down before placing them in read-only mode to conserve space. Well, annoying DBAmon was giving us Space events for these DBs. So, starting with this version we won't monitor space vs. thresholds for RO DBs. I'll see if this causes any intolerable new problems.

Fixes:
(MSSQL) This is a difficult changed, but added logic to better tolerate DBs that in restore/recovery mode. More to come on this.
5.55
5.55
F
18Feb17

Enhancements:

(MSSQL) The DBAmon probe now sets LOCK_TIMEOUT=10000.

Fixes:

5.55
E
06Dec16

Enhancements:

(MSSQL) We now expose a new variable $copssh_version[$thishost] to user exits.

Fixes:

(MSSQL) The Full Backup Age event should have been suppressed for AO Replicas in Async mode. Fixed.

5.55
D
04Dec16

Enhancements:

(All (Windows)) We were required by our Security people to upgrade our SSH Server software on all DBAmon targets. Previously we were using CopSSH version 3.1.4. The CopSSH people (who offer a very good product at a good price) do still offer a free version of CopSSH - currently version 5.4.21. After my initial testing, it still works well with DBAmon, but their free offering currently does not offer multi-threading (I don't blame them for that at all). So, this version of DBAmon does include some code work-arounds if you're using this new version of CopSSH. Simply put, we do have to now do a few "sleep 2"'s in DBAmon to allow CopSSH to go back into listen mode, before issuing another probe (SSH command) against the same target. If this delay becomes problematic, I can make this more sophicticated as some future date.
(All) The default value for the Remsh_Sleep: DBAMONRC value has been changed from 60 to 5.
(MSSQL) New TempDB Space Monitoring. We now query tempdb.sys.dm_db_file_space_usage to instantiate the new DBAmon Performance Metrics:

PERF_SQL_TEMPDB_SPC_ALLOC_MB 
PERF_SQL_TEMPDB_SPC_INTOBJ_MB 	
PERF_SQL_TEMPDB_SPC_MIXEDEXT_MB 	
PERF_SQL_TEMPDB_SPC_TOTSIZE_MB 	
PERF_SQL_TEMPDB_SPC_UNALLOC_MB 
PERF_SQL_TEMPDB_SPC_USEROBJ_MB 	
PERF_SQL_TEMPDB_SPC_VERSTORE_MB
Fixes:
5.55
C
15Nov16
Enhancements:
(MSSQL) Preliminary support for MSSQL 2016. Just a few label and test changes for now. More to come ...
(MSSQL) There is now a quick URL on the Summary page for Reserved space.

Fixes:

5.55
B
01Nov16
Enhancements:
(MSSQL) We recently had some Performance / Connectivity challenges with a very busy MSSQL instance. The problem turned out to be Worker Thread Exhaustion, so we how have some new MSSQL AlwaysOn DBAmon Performance Metrics:

PERF_SQL_WORKERTHREADS_CONFIG_MAX 
PERF_SQL_WORKERTHREADS_INIT_CNT 
PERF_SQL_WORKERTHREADS_RUNNABLE_CNT 	
PERF_SQL_WORKERTHREADS_RUNNING_CNT 
PERF_SQL_WORKERTHREADS_SICK_CNT 
PERF_SQL_WORKERTHREADS_SUSP_CNT
PERF_SQL_WORKERTHREADS_TOTAL_CNT 	
PERF_SQL_WORKERTHREADS_TOTAL_PCT 
The bottom line: If the total number of worker threads (PERF_SQL_WORKERTHREADS) ever reaches the maximum number of worker threads, you will have problems, which would also be indicated by THREADPOOL waits. If this happens, you can either increase "max worker threads" in the MSSQL engine, or increase CPUs which would allocate more worker threads (this happens for the default which is 0).

Fixes:

5.55
A
14Oct16
Enhancements:
(MSSQL) New checking of the MSSQL Error log for this error (the total count is stored in new DBAmon Performance Metric: PERF_SQL_DTC_FAILED_NOTRANS_EVENTS):

Import of Microsoft Distributed Transaction Coordinator (MS DTC) transaction failed: 0x8004d00e(XACT_E_NOTRANSACTION).  
New MSSQL AlwaysOn DBAmon Performance Metrics:

PERF_SQL_AO_MIN_LASTREDONELAG_SEC 	
PERF_SQL_AO_TOT_REDOQUEUERATE_KBSEC 
PERF_SQL_AO_TOT_REDOQUEUESIZE_KB 
PERF_SQL_AO_TOT_SENDQUEUERATE_KBSEC 
PERF_SQL_AO_TOT_SENDQUEUESIZE_KB 
Fixes:
(MSSQL) When counting Remote NTLM sessions, I was not properly excluding local SSMS sessions. Fixed.
(MSSQL) On some servers, the WMINetPerf routine runs for around 2 minutes. For now, this routine will only run between the hours of 00 and 02. I want to find a better way to address this, but this will help.

5.54
5.54
C
30May16

Enhancements:

(All) Increased the width of the CATEGORY column of the Metrics tables from 64 to 255.
5.54
B
03Apr16

Enhancements:

(MSSQL) If I may say so, this is really Cool! (and I rarely use exclamation points). A new Snapshot report of the top 5 MSSQL Waits, where the Wait Type is clickable to a Google Search for that wait type.

(MSSQL) Thanks to our brilliant friends at SQLSkills, I updated the SQL Idle Waits list (this was long overdue).

Fixes:

(All) On the WWW Summary page, the URL test for the Per, Snap, etc. pages was unreadably microscopic. Font size increased 1 point.

5.54
A
20Mar16

Enhancements:

(MSSQL) Better AlwaysOn cluster monitoring. If the cluster's Sync Health is other than HEALTHY, then the new Event DBA710 will occur.

Fixes:

5.53
5.53
L
26Dec15

Enhancements:

(MSSQL) SQL Error 35262 was added to the "Exclude List" (AlwaysOn Failover - Non-Actionable).

Fixes:

5.53
K
28Nov15

Enhancements:

(All) Some aesthetic improvements to the WWW Summary page.

Fixes:

(MSSQL) The WWW Summary page had 2 URLs too close together. Fixed.

5.53
J
07Nov15

Enhancements:

(MSSQL) New checkCDNS and checkCDRJ routines were added to the probe.

Fixes:

5.53
I
07Nov15

Enhancements:

Fixes:

MSSQL: Wording change for Event DBA200 (FG with NoGrow Files).
MSSQL: Logic error in probe for DBs with files set to nogrow.

5.53
G
13Sep15

Enhancements:

OSWIn: Disk drives with a VolumeName maching /pag/i are now excluded.

Fixes:

5.53
F
23Aug15

Enhancements:

MSSQL: New Performance metrics for each Disk Drive: Size, Used, Free, PctFull. The metrics are named: SPC_Disk_FreeGB, SPC_Disk_UsedGB, SPC_Disk_FreeGB, SPC_Disk_PctFull.

Fixes:

5.53
D
15Aug15

Enhancements:

All: New DBAmon Genesis date is displayed on summary page. This is the date of the old history row for this instance.
All: Some minor aesthetic changes to the Summary WWW page to improve readability.

Fixes:

5.53
C
06Aug15

Enhancements:

MSSQL: When reading the MSSQL Error Log, we will now skip over all messages that contain the string "No user action is required". These are common for AlwaysOn clusters.

Fixes:

5.53
A
05Jul15

Enhancements:

All: There is now an Event Snooze capability. For Any DBAmon event, if you click on the Event Log page, below the details for every event, you will see a URL which allows you to snooze an event. You will be prompted for the beginning and end of the snooze period. During the snooze period, there will be no event notifications performed for this event on this instance.
MSSQL: New SA Login monitoring. We now monitor the number of concurrent SA Logins over the last 24 hours. If the value exceeds the new The T_SA_Logins_Max: DBC Parameter then an Event DBA961 will occur.
All: The WWW_Event_Isolate: parameter is now obsolete. Now, all event are included in the Event Isolation report (at the bottom of the WWW Instance Summary page).

Fixes:

All: The DBI LongReadLen parameter was changed from 16000 to 40000 due to a problem with dbamon_mssql_sumread.pl.

5.52
5.52
A
18May15

Enhancements:

MSSQL: New detection and warning event for the presence of any MSSQL DBs in SINGLE_USER mode.
(MSSQL) New inc_event DBAmon User Exit. For more information see: DBAmon Userexits .

Fixes:

MSSQL: A DB in SINGLE_USER mode used to cause the probe to fail. Fixed.

5.51
5.51
J
29Apr15

Enhancements:

MSSQL: More laying of tracks for some upcoming RJ monitoring.

Fixes:

5.51
I
16Apr15

Enhancements:

MSSQL: Laying the tracks for some upcoming RJ monitoring.

Fixes:

5.51
H
09Mar15

Enhancements:

Fixes:

MSSQL: The Signal Wait var was not being cleared which caused some erroreous events when a new DBC is dynamically added.
MSSQL: Improved the RJ Performance Metrics.

5.51
G
04Feb15

Enhancements:

Fixes:

MSSQL: Added QDS_CLEANUP_STALE_QUERIES_TASK_MAIN_LOOP_SLEEP to ignorable waits.

5.51
F
01Feb15

Enhancements:

Fixes:

MSSQL: Some minor changes were made to the SQLPERF_RJ* Performance Metrics.

5.51
E
28Jan15

Enhancements:

Fixes:

MSSQL: The Auto-Reorg check now correctly excludes REPORTSERVERTEMPDB for named instances.

5.51
C
09Jan15

Enhancements:

Fixes:

The extraction of a servers IP address (MSSQL) was incorrect. It has now been corrected to use the first IP address that it finds when running ipconfig .

5.51
B
01Jan15

Enhancements:

Fixes:

This release will alter the MODEL column of the INSTANCES table from CHAR(16) to VARCHAR(64).

5.51
A
27Dec14

Enhancements:

(MSSQL) New Backup Age checking improvements for MSSQL instances running AlwaysOn.
Here is how this will work to begin with (this will evolve over time): If the AlwaysOn Backup preference "Prefer Secondary" is ON, then DBAmon will only perform Backup Age checking on the Secondary instance.

(Sesame Software Relational Junction (RJ) Monitoring)
DBAmon now monitors for successful execution of RJ replication. See: DBAmon Monitoring of RJ for additional information.

Fixes:

5.50
5.50
J
04Dec14

Enhancements:

(MSSQL) The performance metric PERF_SQL_TEMPDB_IOBALANCE_PCT gives some wild values at times. The logic was changed to cap this value at 250.
(MSSQL) Event DBA862 which checks to ensure that you're not running with a non-default Replication Distribution Profile now only looks for the name of the profile staring with the string default. This is a slightly mickey-mouse, but you cannot change the values in the default profile - so a customer needs to have a much higher login timeout value, so they are forced to not use the default profile. So, they can now create a new profile, whose name begins with default and this event will still be in effect.

Fixes:

5.50
I
27Oct14

Enhancements:

(MSSQL) New sqlUp.pl variable $windows_domain[$thishost] . This will allow the sqlup user exit to set IDn variables from the target's Windows domain.

Fixes:

5.50
H
22Oct14

Enhancements:

(MSSQL) SQL Error Log event 8510 is now excluded.
(MSSQL) New Event DBA951 event which measures the number of days since the last Auto-Reorg/Reindex for each MSSQL database.

Fixes:

5.50
G
16Sep14

Enhancements:

(MSSQL) In addtion to existing performance metric PERF_SQL_SESSIONS_NTLM_REMOTE, there is now a metric for KERBEROS and SQL connections.
(MSSQL) A new Snapshot report of the top 5 OS memory consuming processes.
(MSSQL)

Fixes:

5.50
F
03Sep14

Enhancements:

(MSSQL) Support for MSSQL 2014, as a target or the home of the DBAmon Repository.

Fixes:

5.50
E
30Aug14

Enhancements:

(MSSQL) The DBA813 event (DB Full Backup Age) has been changed to issue just one event per instance (previously there was one event for each database).
(All) The Backup Age Inhibit WWW transaction has been enabled. It allows you to inhibit backup age checking just as Inhibit prevents all DBAmon monitoring.

Fixes:

5.50
D
16Aug14

Enhancements:

(MSSQL) For instances with Pager enabled or High or Low Priority specified, there is now a new (improved) icon immediately below the instance name on the WWW Summary page. This will make it easier to see that an instance has paging enabled.

Fixes:

(MSSQL) Changed the text of DBA657 event to show only the integer value (no decimal places). This will result in fewer events (and event notifications) for an instance where a TLOG is gradually filling.

5.50
C
03Aug14

Enhancements:

(MSSQL) New Security Event: PERF_SQL_SESSIONS_SA. This is the number of sessions where the login is SA and the SPID is > 50. We should routinely be using the SA login, so this metric will give us visibility to the extent to which this is occuring.

Fixes:

(MSSQL) The PVSCSI Controller metric was showing as null. Fixed.

5.50
B
26Jul14

Enhancements:

(MSSQL) The SaveConfig capability now captures information on all MSSQL backups taken during the last 10 days.
(MSSQL) Changed the Last 30 Days Average IO/Sec rate for event DBA960 (VMware PCSCSI Controllers) from 100 to 200 IO/Sec.
(MSSQL) A new check for MSSQL Services. With this new Event DBA817 DBAmon check for all Windows services whose name contains the string SQL. If any are found to be set to AUTOSTART but are not current running, this event will occur. This closes a hole in DBAmon where it did not previously check for SSRS, SSAS, SSIS, etc. not executing (if the service is set to AUTOSTART).
(MSSQL) New Performance Counters (this is from dbamon_mssql.cfg):

PERFCOUNTER |SQLSERVERPREFIX:Databases(_total)\Log Growths|SQL_TLog_Growths_SIS|
PERFCOUNTER |SQLSERVERPREFIX:Databases(_total)\Log Shrinks|SQL_TLog_Shrinks_SIS|
PERFCOUNTER |SQLSERVERPREFIX:Databases(_total)\Log Flushes/sec|SQL_TLog_Flushes_PS|
PERFCOUNTER |SQLSERVERPREFIX:Databases(_total)\Log Flush Waits/sec|SQL_Tlog_FlushWaits_PS|

Fixes:
On the Performance page, metrics were not sorted properly. I now do a case-insensitive sort.

5.50
A
24Jun14

Enhancements:

(MSSQL) New Projected MSSQL Instance Growth Report . To run this report, choose the Pro report from the WWW Summary Page. It projects the size of the DB Instance 10 years into the future, using the current growth rate.
(Windows) New Windows OS monitoring. You can now specify DBMS: OSWin in a DBC file. It is just the MSSQL probe minus all DBMS logic. More to come.... It is useful to us to capture the Windows Performance Counters and WMI Metrics.
(MSSQL) Some aesthetic improvements to the WWW Summary Page. The transactions are now grouped by category: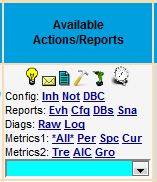 (MSSQL) DBAmon now captures Row Versioning metrics from the SQLServer:Transations Performance Counter class: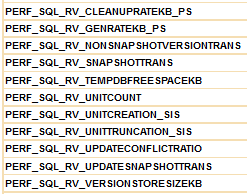 Fixes:
(None)

5.49
5.49
E
10Jun14

Enhancements:

(All) A significant enhancement was made in how UX (Cygwin in this case) task serialization occurs. Previously, a task would check for a previously executing iteration of itself by running "ps". This was inefficient and caused problems when Cygwin was having internal task problems (hung processes). Now, all task serialization is done with file locks using a new routine &serializeMe. While this is not rocket science, it cleans up this area of DBAmon, which was always messy.

Fixes:

(All) DBAmon was not handling long-running non-DBAmon UX tasks correctly. Fixed.
(All) The alert threshold for dbamon_watchdog was changed from 120 minutes to 180. This will eliminate some false alarms.
(All) All reading of the dbamonrc is done with Perl file access and not grep!.

5.49
D
01Jun14

This was an internal-only testing release.

5.49
C
14May14

Enhancements:

(MSSQL) Improvements were made to SSRS monitoring, including a check for failed reports (since the last DBAmon iteration). The new DBAmon Event DBA933 has details of which reports have failed.

Fixes:

5.49
B
09May14